Labor day savings at PetSmart!
4 Days Only! Save up to 50% During the Labor Day Sale at PetSmart.com! Offer Valid 8.30 – 9.2.
Save $10 on $75 or more, $20 on $125 or more, $30 on $150 or more at PetSmart.com. Receive Free Shipping on orders over $60. Enter Code SAVESEPT at checkout. Offer Valid 8.26 – 9.1.
Free Shipping on orders over $60 at PetSmart.com! Enter Code SAVESEPT at checkout. Offer Valid 8.19 – 9.1.
Help the ASPA by clicking on the image below. It shows a dog but they are just involved with cats.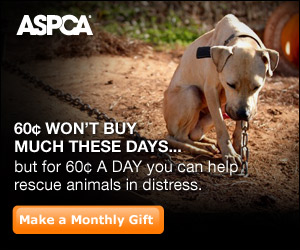 We are growing community of people who love cats very very much, we share lovely photos, videos, even stories with each other. This is the place you have to check daily if you think you are one of us :) Please send us a message with your ideas of how we can make the site better and more enjoyable for you to use. We love constructive criticism on how to improve for you.
We want to share all your love for your cat by broadcasting all those adorable and funny pictures and videos you get of your favorite four legged family member.
Submit your story here or visit our forum.
Save money on your pet needs by visiting the sales, coupons and free giveaways on our Deals and Products page or submit a great deal you find and want to share with the cat community.
If you had a great or lousy experience with a pet product or pet service let everyone know on our Cat Product Reviews page or our Cat Service Reviews page.
The Mission of OurLoveForCats.com is to bring a better life to cats and kittens that are not in the most pleasant circumstances. Now go browse and post, we value your post and show us your adorable cat! We will feature the best pictures and videos on Facebook, Google+, Twitter and Pinerest! Don't forget to like, follow or subscribe to us!
Our love for Cats will never end!
CAT LOVERS CHAT
Interact with other people who love cats and kittens as much as you do!